I.T. Service CLOUD PROGRAM (CP)
We are ready to solve your specific needs. Our team of engineers, cloud strategists and technology support are aligned in a common vision to make I.T. Service Corporation Cloud Program (CP) the best investment for you. We have listened carefully and designed a solution to solve your challenges.
I.T. Service Corporation CP is a fully loaded virtual IT infrastructure. Your users will receive a complete IT platform with all the tech and features your organization needs – without the risks and headaches.
USERS GET ACCESS TO I.T. SERVICE CLOUD PROGRAM (CP) THROUGH A VIRTUAL DESKTOP CONNECTION
Anywhere, Anytime, on Any Device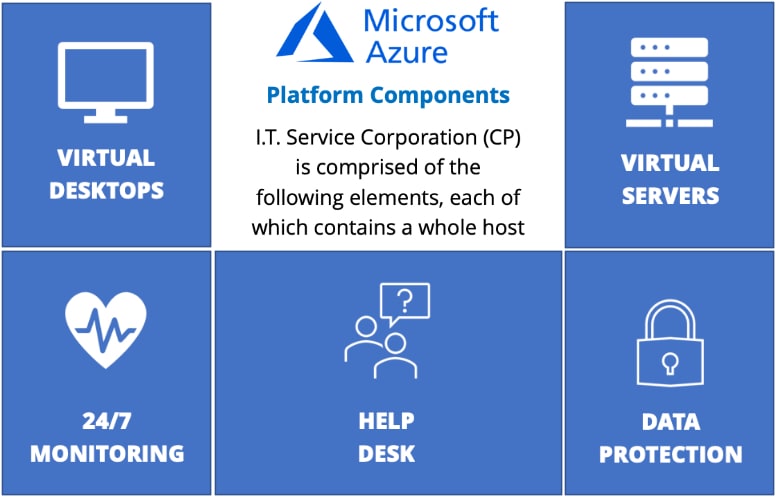 AZURE CLOUD PLATFORM
The I.T. Service Corporation Cloud Program is an Azure cloud-based platform combining virtual servers, virtual desktops, and Microsoft 365 Business Premium with an easy to use provisioning and management interface.
ONBOARDING AND INTEGRATION
Onboarding and integration of current applications to the I.T. Service Corporation Cloud environment, plus user training on how to access the environment.
HELP DESK SUPPORT
Help desk support for all of your users.
vCIO SOLUTIONS
Virtual CIO (vCIO) solutions to provide strategic IT assistance, project based work, etc.

---
PLATFORM AND ARCHITECTURE
SPECIFICALLY, THE I.T. SERVICE CLOUD PROGRAM (CP) ADDRESSES YOUR CHALLENGES IN THE FOLLOWING MANNER
STABILITY & AVAILABILITY OF RESOURCES
I.T. Service Corporation Cloud Program is a high availability solution utilizing the Microsoft Azure cloud platform.
WINDOWS VIRTUAL DESKTOPS & GPU DESKTOPS
We will build out your environment to support standard desktops that will provide a work from anywhere capability for your users to access their desktops and use YOUR CLIENT APPS and other line of business applications.
SECURITY
Security is always top of mind. Our solution can include at additional cost, managed anti-virus (Trend Micro) for one physical computer for each user. This will provide AV and malware protection for the user's physical computer they use to connect to the cloud environment. A physical firewall is also provided to protect the edge of your network from the latest threats, additional security measures are included such as DNS Protection and Advanced Threat Detection and Response to help protect your cloud environment from threats.
BACKUP & DISASTER RECOVERY
All Cloud Servers and Window Virtual Desktops are backed up daily through Azure Backup stack v2 with 30-day retention. Your cloud environment will be protected and in the case of disaster, corruption, or accidental deletion, we can recover resources and files within minutes. In addition, we can select too backup in region or out of region depending on your business requirements.
MANAGEMENT & MONITORING
The I.T. Service Corporation CP solution is 100% monitored and managed to keep your organization running smoothly. Any bottlenecks or performance issues can be addressed to eliminate any future issues.
HELP DESK & ONSITE SUPPORT
Our help desk personnel are at the ready to support your users with any issues they may have. On-site support is available at our standard Consulting rate during normal business hours.